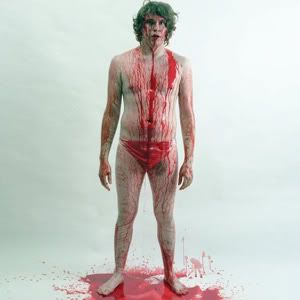 Sometime during the summer of 2009, heretofore referred to as my "Summer of Interviews" because I got near sixty interviews under my belt in a three month period, I rejected an interview with a gentleman named Jimmy Lee Lindsey Jr., better known as

Jay Reatard

. It wasn't because I didn't want to interview Jay Reatard but rather because I had heard far too many stories from friends about "that time Jay Reatard spit in their face". Granted, most of these stories ended with "and it was awesome!" but still. Being spit at is something I'm not fond of, particularly when it invovles said spit being spat in my face. My face is what I refer to as "the moneymaker' - I need that to be clean and spit free!

Now, Jay Reatard's dead and to be honest, I kind of regret the fact that I can't add to "in memorium of Jay Reatard" posts now flooding the blogosphere with a story about "that one time Jay Reatard spit in my face".

Check out Jay's official site for a pretty fantastic cover of Nirvana's "Frances Farmer Will Have Her Revenge on Seattle" & Elbows for an onslaught of mp3's. So far as a jumping off point for the uninitiated,

The Matador Singles

is a good place to start.

First Vic Chesnutt, now Jay Reatard. It's been a strange, sad twenty days.