Welcome to The Hot Half-Life of Amber Valentine.
You may now be asking yourself a number of questions suc
h as :
Who is Amber Valentine? Why should I care? Does she actually live a hot half-life or is that just a reference to a lyric from a song by a band which this very blog entry is about? Does she always structure her paragraphs this way and, if that's the case, should I actually bother wasting my time with this blog?
I could answer your questions. Or I could just get straig
ht into the blogging.
I live dangerously. Sometimes monosyllabically. Ergo, I choose the latter.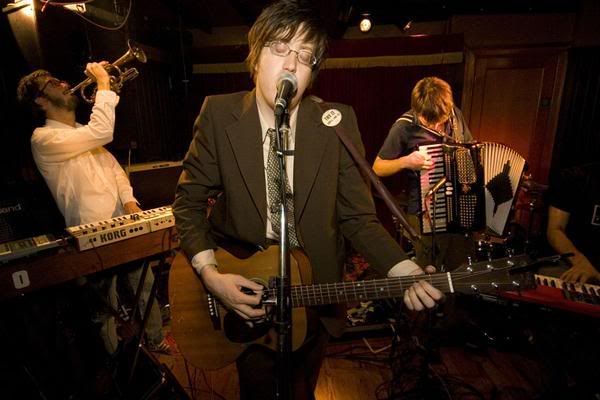 If you don't know of Will Sheff and his fine friends whom, together, make up a little band called Okkervil River, you probably haven't spent a lot of time around the blogosophere. Nor have you probably purchased tickets to this years Lollapalooza, at which Okkervil is playing this August 2nd. [Being a Chicago area resident and not attending an Okkervil event is a sore subject, lets not speak of it again.] To say they're kind of a big deal would probably be an understatement. To say they're one of only two bands I've been listening to for the past solid month would most definitely be an understatement.
In September, Okkervil will be releasing an accompaniment of sorts to their last stellar record, The Stage Names, called The Stand-Ins. It's leaked recently and you can find bits and pieces of it all over these internets. While I could waste my time giving whoever might stumble upon this little blog-of-all-media the amazing single, Lost Coastlines, or my personal favourite song and Summer anthem, the incredibly sad On Tour With Zykos, I'll instead treat you to two of my all time favorite Okkervil River songs and a video of Mr. Sheff himself playing the latter.